Subaru EA81 Cylinder Head for High Performances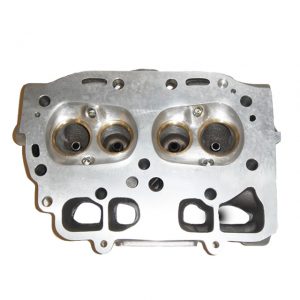 Flygas has designed and developed a new cylinder head high performance and reliability for the Subaru EA81 engine. The new head is die-cast in G-9-AllSi designed to increase engine performance by increasing the reliability.
The new cylinder head has the intake and exhaust manifold separate and increase its dimension, two spark plugs per cylinder in opposite position which ensures and improved combustion, increased intake valves diameter, ready for installation injectors of indirect or direct injection and ring valves in special bronze alloy. The performance increase is estimated at +20%.
Info
External Diameter Inlet valve 42mm
External Diameter Exhaust valve 32.5mm
Internal Diameter Inlet Manifold 32.5mm
Screw dimension of Spark-Plug 12 or 10mm
Compression Ratio 9:1 or you choice
Weight 4.1Kg
The installation of the heads and the possible bench test is performed within 30 days of order confirmation.
FlyGas provides technical support for installation and / or for any clarification. It is also possible to arrange for sales assistance and verification of the engine with a data acquisition system for the first test.
Advantage
More Power, Fast and Acceleration
Fuel consumption reduced
Does not affect the reliability of your Subaru engine
Power increase around +20%
---